Tajush Shari'ah: A Beacon of Spiritual Influence in the Sunni Tradition
Updated: Aug 18, 2023 - 21:51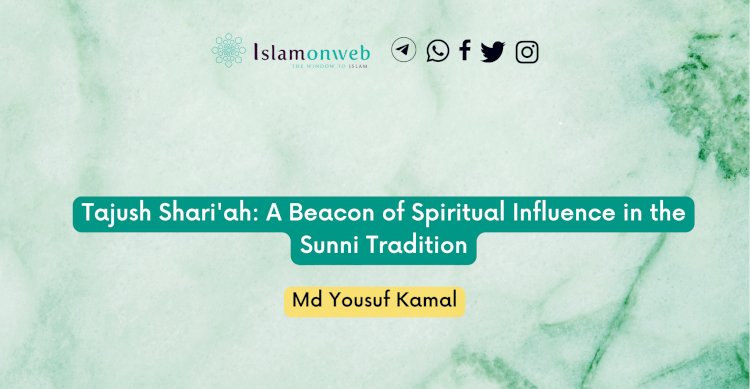 Throughout history, India has been a hub of knowledge and learning, giving rise to a myriad of prolific Muslim scholars who have contributed a vast legacy to the service of Islam worldwide. These scholars with their magnificent intellectual pursuits have left a lasting impact on the Islamic world. One of such notable examples is Akhtar Raza Khan, also known as Tajush Shari'ah or Azhari Miya, who made remarkable contributions to the Islamic heritage and legacy. He was highly respected for his profound knowledge of Islamic theology and Sufism, inspiring numerous individuals to the study of religion and enriching the Islamic tradition not only in India but also beyond its borders.
Apart from being such a profound scholar, he was also blessed to be the great grandson of 14th century Mujaddid Āla Hazrath Imam Ahmed Raza Khan, grandson of Hujjat-ul Islam Hamid Raza Khan and son of Mufassir-e-A'zam Ibrahim Raza Khan (May Allah be pleased with them). It has been five since the Islamic world and more specifically India lost its precious gem. The supremacy furthermore sprouted to the world when more than a million followers and disciples thronged there in Bareilly on the day of funeral and recorded his name in the list of notable funerals representing a considerable historical figure of the world.
Childhood & Educational Journey
Tajush Shari'ah was born in Saudagran Street in Bareilly, the Rizwi city of India on 24th Zil Qaeda 1362 AH/ 23rd November 1943 AD. There are different views on the exact birth date of the scholar, but all these views propose that it is either in 1942 or 1943 AD/ 1361 or 1362 AH. Hazrath was a great grandson of Imam Ahmed Raza Khan from both paternal and maternal sides, as his paternal grandfather was Hujjat-ul Islam Hamid Raza Khan and maternal grandfather was Mufti-e-Azam Hind Mustafa Raza Khan, both are sons of Imam Āla Hazrath.
Hazrath's educational journey had started at the age of four when his mother alongside his father brought him up with all the elementary feeds for the future purposes. Later on, he learned Quran, mathematics, Hindi, English, etc. from Fazlur Rahman Islamia Inter College, Bareilly. Then he was admitted to Madarsa Manzarul Islam where he completed the entire Dars-e Nizami course. During these years, Hazrath found himself intrigued by a self-driven reading appetite and thus he used to sideline himself to work on his longing to study materials and read books.
After the completion of graduation from Madrasa Manzarul Islam, Hazrath went to Egypt in 1963 for higher studies in Al-Azhar University, Cairo. Therein, he completed his post graduation in "Arabic literature and Islamic Studies with specialization in Hadith and Tafseer" in 1966. During his studies, Hazrath was more like an astonishment for the faculties, colleagues and even the examiners for his brilliance and mastery of the Islamic sciences. It is said that he used to secure first position in the class/department and had the merit of being the best foreign student to study at Al-Azhar. Thus, he was awarded with the Jamia Azhar Award personally presented to him by Colonel Jamaal Abdul.
There were so many distinguished personalities and teachers behind Hazrath's mastery of versatile aptitudes and excellence in different fields of knowledge and sciences. Some of the most renowned and worth mentioning personalities are: Ibrahim Raza Khan, Nigar Fatima aka Sairkar Begum, Mufti-e Azam-e Hind Mustafa Raza Khan, Mufti Muhammad Afzal Husain Mungeri, and Molana Hafiz In'am-Ul- Allah Khan Tasneem Hamidi in primary education and Maulana Muhammad Saami, Sheikh Abdul Gaffar and many others at the Azhar University.
Teaching Career and Literary Works
The teaching career of Hazrath started at the age of 25 as a lecturer at Darul Ulūm Manzar-e Islam in 1967. Later on, he was designated as principal there in 1968 which stretched to a period of 12 years. Along with being the principal, he taught Sahih Bukhari at Jamia Islamia Ganj Qadim, Rampur, and Jamia Amjadia Karachi followed by his teaching at Al-Jamiatul Qadria.
One's legacy of what he leaves behind makes him noteworthy for centuries to come, is what the world believes. In saying so, Hazrath wrote many books about different subjects and skills in the Islamic tradition, which added valuable knowledge to Islamic culture. In his legacy, there are compilations of fatwās, well-versed poems, and many more. Among these, some of the most prolific ones in Arabic language are Al-Haqq al-Mubeen, Al-Mawahib al-Rizwiyyah Fi al-Fatawa al-Azhariya, Al-Sahabah Nujum al-Ihtida, Sharhu Hadith al-Ikhlas, Mir'at al-Najdiayyah bi Jawabi al-Bareilliya, Hashiyat al-Azhari ala Sahih al-Bukhari, Shumūl al-Islam, Azhar al-Fatawa and many more.
The list goes on when Urdu books are taken into account such as Hijrat-e- Rasūl, Tie ka Mas'ala, Suno aur Chup Raho, Teen Talaqo ka Shar'i Hukm, Tasveeron ka Shara'i Hukm, T.V ka Shara'i Operation, and Ek Aham Fatwa. These books were penned down when Hazrath used to have a hectic and preoccupied schedule of programmes in India and abroad to ensure that the Muslims weren't finding it unhandy to deal with current and controversial topics of the time.
Like his great grandfather, Hazrath too had an outstanding and striking style of composing poetry. So, he would compose fine and heartwarming nà'at (Islamic song) praising the Messenger of Allah ﷺ and expressing his love and compassion for him. Like great grandfather's Hada'iq-e Bakhshish, Hazrath too versed a collection of nà'at named 'Safīna-e Bakhshish' which is a proof of his magniloquence and expressiveness in the field of poetry and composition. This state of his religious affection for the Messenger of Allah ﷺ sprouted more and more and left an underline impact on his spiritual life, as he was also blessed with khilafat (spiritual permission) of many orders such as Qadariyah, Barakatiyah and Nooriyah by Mufti-e-Azam Hind in the year 1984.
Leadership and Patronization
Apart from being a profound scholar as well as a prolific writer, Hazrath is known for his leadership expertise. In fact, from his life, it felt like service to ummah and priorities of dīn were the primary preferences and only purpose of Hazrath's entire life. As if his life was what the prophetic tradition also taught us that when Allah loves someone He creates a sense of love in the heart of mass too and subsequently he becomes beloved to the people with Allah's blessings and grace. That's the reason, Hazrath had the Murīds (spiritual disciples) in India as well as in Iran, Iraq, Pakistan, Saudi Arabia, Bangladesh, Sri Lanka, Mauritius, United Kingdom, Holland, South Africa, America, United Arab Emirates, Turkey, etc.
These propagative services and initiatives for the sake of Allah and His pleasure had made hazrath one of the prominent Islamic leaders of his time. Thus, several institutions had patronized him such as Madrasa Raza Darul Ulūm, Bombai, Al-Jamiatul Razwiyya, Bihar, Madrasa Tanzīm al-Muslimīn, Markaz-e Darul Ifta and Mahnāma Sunni Duniya, Bareilly, Al-Jamiatul Islamic, Bahraich, Madrasa Gauthiya Jashn-e Raza, Gujrat, and many others. Not just that, he also chief patron of many other institutions abroad such as Markaz-e Darul Ifta and Jamia Madinatul Islam in Holland, Imam Ahmed Raza Academy and Muhibbāne Raza-e Mustafa in South Africa and many others.
Hazrath, keeping all his business apart, was an enthusiastic and spirited front-runner in politics and diplomacy. He had held the offices of president in All India Jamiatul Ulema, the Shari'ah board, and the U.P Muslim Personal Law Council. The massive resource hub of Sunni Muslims in India and a center of educational revolution namely "Jamiatur Rida" was constructed by him, which is flourishing and shaping new generations.
Among one of major attributes of Hazrath is that he never feared to object to malpractices wherever it happened and whoever were the supporters. After all, the Quran hailed: You are the best community ever raised for humanity—you encourage good, forbid evil, and believe in Allah. (Holy Quran: 03/110) In fact, the honorable had issued Fatwa against ISIS in 2015, which had become one of major sources of Times of India while publishing "70,000 clerics issue fatwa against terrorism, 15 Lakh Muslims support it.
Hazrath was quite considerate of deeds and never feared to stand against what is morally wrong and or ethically not-in-line with Sharia' practices. The much known incident of Mecca pilgrimage of 1986 is a well known of such approach of Hazrath where he was arrested by some uniformed police officers for not performing prayer behind Wahabi imams or simply for being a true and faithful Sunni scholar. Many Sunni scholars around the world have considered it disdainful. In fact, in some places in India, protests and demonstrations were called out like the protest led by Sheikh al-Hadith Hazrath Allama Ziaul Mustafa al-Qadri al-Amjadi with a group of 50,000 disciples in Mumbai. Allama Arshadul Qadri had condemned this unjustifiable act of the Saudi government and presented a memorandum to the Saudi embassy regarding the matter after Hazrath was released. Later, the government of Saudi Arabia realized their mistake, and repented by sending him a special family visa for Umrah and Medina visit in 1987. Just four years before, acclaiming Hazrath's versatile aptitudes and excellence in human services, he was featured in the list of 500 most influential muslims of the world in 2015-16 at 24th place which was released by the Royal Islamic Strategic Centre, Jordan.
Conclusion
Throughout life, Hazrath had a very basic goal of strengthening the faith of believers and bringing them to a common ground where they could practice the true and realistic beliefs of Islam. Being an active disciple of Imam Ahmed Raza Khan, Hazrath always strived to spread the Maslak-e Āla Hazrath (Cult of Āla Hazrath) which was actually a revolutionary campaign initiated to evacuate Muslims from the intensifying and expanding fitnās, bid'ats, sects with various false and ill beliefs and misled and min-proposed creeds. In order to do so, he would respond to the erroneous beliefs pushed forwards by several theological groups such as Wahabis, Deobandis, Qadianis and many more and interpret them the religion and the matters of religion as they fell prey in interpreting in a wrong and falsifying way.
Even during the last years of his life, he would be in the service of ummah and the religion. At the age of 76 years on Friday evening, almost 7 past half, 6th Zul Qae'dah 1439/20th July 2018, this sparkling star of the ummah bade adieu to the mass and traveled to the world of immortality leaving behind an enriching fruit-bearing legacy and heritage to Islam. He was buried just behind the shrine of Sarkar Āla Hazrath Imam Ahmed Raza Khan Bareillwi. May Allah bless us with more such scholars to help us get the true spirit of Islam: Ameen.
References
Sawaneh-e Tajush Shariah By Allam Monis Owasi, (2018), Jamia Rizvia Kanzul Imaan, Shirvarpun.
Life History of Tajush Shariah by 'Jamate Raza-e-mustafa' https://www.jamatrazaemustafa.org/about.php?id=life-history-of-taajush-shariah.
Introduction of Mufti Akhter Raza Khan ; https://alahazrat.net/personalities/mufti-muhammad-akhtar-raza-khan/introduction-of-mufti-akhtar-raza-khan.
70000 Clerics Issue Fatwa Against Terrorism 15 Lakh-Muslims Support It, Dec 09 2015, Times of India https://timesofindia.indiatimes.com/india/70000-clerics-issue-fatwa-against-terrorism-15-lakh-Muslims-support-it/articleshow/50100656.cms.
Remembering Maulana Akhtar Raza Qadri on his second death anniversary ; by Dr. Shahnawaz Ahmed Malik : https://muslimmirror.com/eng/remembering-taj-ush-sharia-mufti-akhtar-raza-khan-qadri-azhari-on-his-second-death-anniversary.
Royal Islamic Strategic Studies Centre (2018). "Muhammad Akhtar Raza Khan Qaadiri Al-Azhari". The Muslim 500. Available at https://web.archive.org/web/20180612163437/https://www.themuslim500.com/profiles/mufti-muhammad-akhtar-raza-khan-qaadiri-al-azhari.
Thousands throng funeral of noted Barelvi cleric; traffic blocked for eight hours; Times of India;https://timesofindia.indiatimes.com/city/bareilly/thousands-throng-funeral-of-noted-barelvi-cleric-traffic-blocked-for-eight-hours/articleshow/65095015.cms.
About the author
Md Yousuf Kamal, Bihar, is a second year student of the Dept. of Quran and related Sciences in UG campus at Darul Huda Islamic University, Chemmad, Kerala.