Unsung Muslim Heroes and Heroines of India's Independence
Updated: May 31, 2023 - 22:17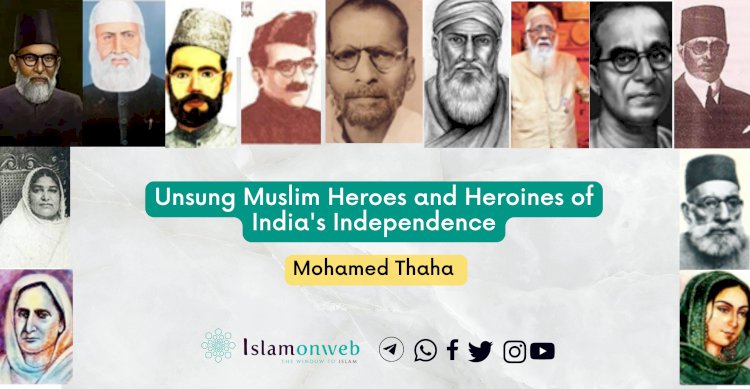 "Mera Desh Azaad Hai"
India gained independence from British rule on August 15, 1947, a significant day that occurred almost 75 years ago. It was the result of a number of movements and conflicts that raged all through the period of British administration, including the famous uprising of 1857. Gandhi, Jawaharlal Nehru, Vallabhai Patel, Abdul Ghaffar Khan, Maulana Azad, and others were among the prominent figures. Pritilata Waddedar, Kasturba Gandhi, Vijaya Lakshmi Pandit, and Sarojini Naidu were among the female leaders who encouraged Indian women to become free and take part in the freedom struggle. Since Muslims participated in the freedom movement in greater numbers. The "First Indian freedom struggle" was organized and led by Moulavi Ahamadullah Shah. Ashfaqulla Khan, who was the first person to be hanged at the age of 27 for plotting against the British Raj. Shah Nawaz Khan served in the Indian National Army (INA) as a Chief Officer and Commander in addition to being a politician.
Currently, Indian Muslims face discrimination and their patriotism is questioned. Communal parties attempt to rewrite history by omitting Muslims. Through social media, misleading information about Indian Muslims is propagated in an anti-Muslim manner. Muslim sacrifices during the cause for Indian independence are actually hidden. A brief glimpse at history, however, would show that Indian Muslims not only contributed significantly to the liberation struggle but also gave their lives in the service of the anti-colonial national battle. 61945 of the 95300 names of independence fighters mentioned on India Gate in Delhi are Muslim names, indicating that 65% of all liberation fighters were Muslims, as reported in an article in Milli Chronicle. The report further quoted famous Writer Mr. Kushwant Singh as saying: "Indian Freedom is written on Muslims' blood, their participation in the freedom struggle was much more, in proportion to their small percentage of population". This article is meant to look at certain Muslim freedom heroes who have perished in history as well as are not often remembered.
Ismael Shaheb
On June 5, 1896, in the Madras Presidency's Tirunelveli district, Muhammad Ismail Sahib was born. In his native states of Tamil Nadu and Kerala, he is known as the "Quaid-e-Millat" (Leader of the Nation). When he was 14 years old and living in Tirunelveli, Ismail founded the Young Muslim Society. In 1918, he also established the Majlis-ul-Ulama, or Council of Islamic Scholars. He joined the Muslim League that same year and worked his way up to become its Madras Unit President in 1945. Ismail rose to prominence as the head of the opposition when the Muslim League won all 28 seats designated for Muslims in the 1946 Provincial Elections. Ismail was chosen by the Muslim League to stand for Madras in the Constituent Assembly. He was one of the 28 Muslim League members who remained in India following the partition and took part in the activities of the Constituent Assembly. He spoke up during the official language debates in the Assembly. Ismail founded the Indian Union Muslim League party in 1948, becoming its first President, along with other League members who stayed in India following the partition. Ismail was elected to the Rajya Sabha in the first elections and served from 1952 to 1958. Later, he was elected to the Lok Sabha, where he served from 1962 to 1970 for two terms in a row. Ismail passed away on April 5th, 1972. The Nagapattinam district was renamed "Nagai Quaid -E- Millet" District in his honor by the Tamil Nadu government, although it changed back to its original name in 1997 when all names of people were removed from the titles of districts.
Muslim Vellori
Muslim Vellori, a lesser-known freedom warrior, played a significant part in social work in addition to the freedom movement. Although many people do not know Muslim Vellori's name today, an older generation of Bangaloreans, particularly Muslims in the city, remember him with a sense of respect because he was a brave freedom warrior. Mohammed Abdul Wahid Khan, who was born in 1883 in Ganjam, a historic town close to Srirangapatna, became known as "Muslim Vellori" as he grew older. He is well known for his involvement in the Khilafat movement (1919–1922), during which he had the opportunity to interact with many notable freedom fighters, including Mahatma Gandhi, the Ali brothers—Mohammed and Shaukat Ali—Dr. Mukhtar Ahmed Ansari, Hakim Ajmal Khan, and Saifuddin Kitchlew. Because of his provoking statements, Vellori was frequently imprisoned and spent time in Bangalore Central Jail between 1924 and 1927.
Captain Abbas Ali
Abbas Ali was born on 3rd January 1920 at Khurja, Bulandshahr (Uttar Pradesh). He belonged to the Rajput Muslim family of freedom fighters. His grandfather Rustam Ali Khan was hanged by the British army at Kala Aam in Bulandshahar after the 1857 mutiny. After finishing his schooling in his teen years, Abbas Ali joined the Indian liberation movement. Since his school days, Abbas Ali has been influenced by the revolutionary principles of Bhagat Singh. He also took part in a protest march on March 25, 1931, at Khurja to oppose Shaheed Bhagat Singh's death sentence. Soon after Bhagat Singh was hanged, he joined the Naujawan Bharat Sabha, which Bhagat Singh had founded, and actively took part in its operations while he was still in school. He joined the All-India Students Federation (AISF), a student branch of left-leaning parties founded in 1936, after being inspired by Muhammad Ashraf. He enlisted in the Azad Hind Fauj, also known as the Indian National Army (INA). He was an important part of the INA's Dilli Chalo campaign in 1945, which was directed by Netaji Subash Chander Bose. He engaged in combat with the Indian Army in Arakaan, but he was captured among 60000 other INA forces and was later court-martialed and given a death sentence. After Independence in 1947, he was released by the Nehru Government then he joined mainstream politics. He spent 19 months behind bars when Indira Gandhi declared an emergency. He spent more than 50 times in jail over the course of his life. Due to heart failure, he passed away on October 11, 2014.
Fazl-E-Haq Khairabadi
Allama Fazl e Haq Khairabadi grew up in a well-off family in Khairabad (Old Oudh), in the Sitapur district of Uttar Pradesh. He was born in 1797. One of the earliest political prisoners during colonial times, he allegedly proclaimed a fatwa-e jihad against the British and in 1831, Khairabadi resigned from the Government job and spent most of his time in scholarly work amid the intellectuals. He reportedly drafted the first constitution of Independent India based on democratic ideas. In a little more than 4 months, he had memorized the Quran. By the age of thirteen, he had also finished the requirements for Arabic, Persian, and religious studies. He was referred to as "Allama" because of his extensive knowledge and learning, and he later gained respect as a great Sufi. 'Imam Hikmat' and 'Kalaam' were also given to him. The Indian mutiny of 1857 had the most active involvement from Allama Fazl e Haq Khairabadi. In May 1857, he arrived in Delhi. On May 11, 1857, the rebel army defeated the small British force in Delhi, and Bahadur Shah, the final Mughal ruler, who had been crowned ruler, became the focal point of insurgent activity. Allama Fazl e Haq Khairabadi also took part in dialogues with Bahadur Shah Zafar and gave him counsel, according to the daily journal of Munshi Jiwan Lal, the British spy at Red Fort. On 30 January 1859, he was arrested from his house and he was sentenced to life imprisonment in the Andaman Penal Settlement and had been hanged. Every year on February 12th, the Andaman and Nicobar Waqf Board holds a number of socio-cultural events in the city in honor of the great scholar and freedom fighter. These events aim to inspire the islanders to emulate the selfless life he led and spread his teachings for the benefit of others and peaceful coexistence on the islands.
Sharfuddin Quadri
Syed Mohammad Sharfuddin Quadri, a forgotten liberation fighter for India, is recognized on our list for his extraordinarily noble deeds. Quadri was born in the remote village of Kumrava in Nawada district of Bihar in 1901. His family moved to Calcutta in the mid-1930s. He was a renowned Unani practitioner who was instrumental in founding the Unani Medical College and Hospital in Kolkata and he was the founder of a medical magazine, Hikmat-e-Bangala. He joined the Indian independence movement in 1930, during the Salt Satyagraha movement. He was held in the same cell as Mahatma Gandhi and ably assisted him in every struggle. As his son Manzar Sadique said: "My father was imprisoned with Gandhiji by the British in Cuttack. He would accompany him everywhere during the Civil Disobedience Movement ". And He also opposed the two-nation theory, which supported the division of colonial India. He passed away on December 30, 2015, at the age of 114, eight years after receiving the Padma Bhushan.
Maulana Mazharul Haque
Maulana Mazharul Haque, who was born on December 22, 1866, in the Bihar district of Patna, was well-known for his humanitarian efforts during the 1897 famine. At home, he received his primitive education from a Maulvi. In 1886, he graduated from the Patna Collegiate. He then traveled to Lucknow for further study and enrolled in Cannigh College. However, he was unable to cope and left for England in 1886 to pursue a legal education. After completing the bar exam, he returned to India in 1891 and began his legal career in Patna. He became a member of the judicial branch as Munsif on the recommendation of his friend Willam Barket. However, due to disagreements with the District & Session Judge, he abruptly left and began working at Chapra. In 1906, he returned to Patna to practice law. He started taking part in the struggle for liberation and rose to the position of vice chairman of the Bihar Congress Committee. He significantly contributed to the success of the Champaran Satyagraha, the Khilafat and Non-Cooperation Movements. Before his death in January 1930, he donated every last bit of his property to promote education.
Mohammad Abdur Rahiman
In the year 1898, Abdur Rahiiman was born in Kerala's Thrissur district. He studied at Madras and Aligarh universities, but he left Aligarh University early to get involved in the Khilafat and Non-Cooperation movements. He was renowned for his bravery in reestablishing order in the 1921 riot-affected districts as Sahib was jailed for two years after the 1921 Moplah Riots, although he was crucial in regaining peace. Additionally, in 1930, he took part in the Salt Satyagraha at Calicut Beach, for which he was sentenced to nine months of solitary confinement and jailed at the Central Jail in Kannur. He organized the Muslim populace against the Muslim League Party's two-nation policy. Muhammad Abdul Rahman Sahib joined the All-India Forward Bloc that Subhas Chandra Bose organized. He was imprisoned by the British Raj from 1940 to 1945 after the Second World War broke out. Following his release from confinement, he went back to Calicut and began taking an active part in Congress activities. On November 23, 1945, not long after speaking at a public gathering in Kodiyathur, he passed away. Sahib was a member of Calicut Municipal Council from 1931 to 1934 and the Malabar District Board of Madras Presidency from 1932. He was elected to the Madras Presidency from Malappuram constituency in 1937. He became President of the Kerala Pradesh Congress Committee (KPCC) and a member of the All India Congress Committee (AICC) in 1939 and he was the leader of Nationalist Muslims in Kerala who opposed the Two-Nation Theory. He was honored in 1998 when the Department of Posts and Telegraph released a commemorative stamp. He is commemorated at the Muhammed Abdur Rahiman Memorial Orphanage College and the Mohammed Abdur Rahiman Sahib Academy in Kozhikode.
Maulvi Ahmadullah Shah Faizabadi
Moulvi Ahmadullah Shah Faizabadi was born in 1787. He was known as the Lighthouse of Rebellion. He was given the appellation Moulvi because of his spiritual wisdom. He studied other academic subjects and gathered martial arts instruction. The Nizam, Nawab of Hyderabad, urged Moulvi Ahmadullah Shah to travel to England, Iraq, Iran, Makkah, and Madina. Moulvi Ahmadullah was drawn to the Sufi philosophy after returning to India, and he joined the 'Quadri' silsila and became Syed Furkhan Ali Shah's disciple. In the First War of Indian Independence in 1857 Moulvi Ahmadullah engaged the forces against the East India Company, defeating them on multiple occasions. In the first struggle for independence, Moulvi Ahmadullah took part in a number of engagements alongside Khan Bahadur Khan, Firoz Shah, Begum Hazarat Mahal, and Sardar Hikhmatullah. British historian G.B. Malleson describes Maulvi Ahmedullah Shah of Faizabad as one of the greatest heroes of the First War of Independence (1857). A reward of Rs. 50,000 was offered by the East India Company for catching Moulvi Ahmadullah, alive or dead. When the Maulvi traveled to Powen to invite Jagannath Sinha to join the First War of Independence, the selfish brother of Jagannath Sinha shot the Maulvi. Later, He cut down Moulvi Ahmadullah and brought his head to the closest British police station in Shahjahanpur wrapped in a cloth. Thus, on June 15, 1858, Moulvi Ahamadulla Shah Faizabadi gained martyrdom.
Muhammad Barkathullah
In Itora, Bhopal, Abdul Hafiz Mohammad Barkatullah was born on July 7th, 1854. He completed his primary Arabic and Persian education at Sulemaniya Vidyalaya in Bhopal, and he later completed his higher studies there. Up to high school, Maulana Barkatullah attended Sulaimaniya School where he obtained his English education. He learned a lot from the numerous highly educated, seasoned religious leaders and specialists he met while studying. Maulana Barkatullah was hired as a teacher at the Sulaimaniya school itself after completing his studies. One of India's courageous freedom fighters, Maulana Barkatullah Bhopali spent the majority of his life overseas but provided crucial assistance in the nation's struggle for independence. He is sometimes referred to as the flamboyant face of Muslim-Hindu unity. With the aid of Turkey and Germany, Maulana Barkatullah Bhopali was able to travel to Kabul in 1915 to join the Ghadar surge against the British that was still going on there. While there, he developed new plans for the conflict to liberate India. Maulana Barkatullah passed away on September 20, 1927, the final night of his life. He spoke to his companions in his final night of life, he told: "I have been striving for the freedom of my motherland with honesty all my life. And today, when I leave this life, where I regret that in my life, my attempt to free the country from British rule could not be successful. But I am also aware of the fact that millions of brave men have come forward after me to free my country, who are honest, brave and even more courageous. Now I am going with a leisurely hand, handing over the fate of my beloved country to their hands."
Yusuf Meherally
On September 3, 1903, Yusuf Meherally was born in Bombay. He was a socialist activist and liberation fighter from India. While he was housed in the Yerawada Central Prison in 1942, he was chosen as the mayor of Bombay. The city that never stopped, Bombay stood still in the memory of the man who had given his life and blood for the national well-being. He would spend a lot of time reading during his high school years about the various revolutionary upheavals and the part that youth had played in them. Simon Commission arrived in Bombay in February 1928 while Yusuf Meherally was continuing his legal education at the Government Law College after receiving graduate degrees in history and economics from Elphinstone College. In 1938, Yusuf Meherally served as the head of the Indian delegation to the World Youth Congress in New York before traveling to Mexico for the World Cultural Conference. He wrote the 'Leaders of India' book series, a collection of current affairs-related works that he also translated into Gujarati, Hindi, and Urdu. The Working Committee of the INC convened at Wardha on July 14 and agreed to call for total independence. Gandhiji liked the short phrase "Quit India," which was created by Yusuf Meherally. Yusuf Meherally passed away on July 2, 1950.
Maulana Hasrat Mohani
He was born on January 1, 1875, in Kasba Mohan, Uttar Pradesh's Unnao district. Syed Fazal-ul-Hasan was his real name. His takhallus, or poetic moniker, was Hasrat, which he also used in his poems. Mohani, who was born in Mohan, came to be connected with Hasrat. He then rose to fame as Hasrat Mohani. He joined Aligarh Muslim University after finishing his primary classes. He joined the revolutionary activities while still in college, which forced him to serve time in prison in 1903. Even though he was expelled from college, his quest for freedom was unwavering. He began publishing the 'Urdu-e-Mualla' journal from Aligarh in 1903. This publication offered articles that were critical of British rule's tyranny and flawed policies. With tremendous impunity, Maulana continued on spreading awareness of the independence movement through his writing. He had to enter prison once more as a result in 1907. The British were aware of his writing's influence. His publication was closed due to the fear of his towering influence. He was one of the Congressmen who was involved. He stayed on staff with the Congress until 1907. Soon after Bal Gangadhar Tilak left the Congress, Maulana followed suit. He showed his bravery in the struggle for freedom against the violent revolutionaries. He also took part in the foundation of the Communist Party. In 1925, he was once again imprisoned. 'Inquilab Zindabad' was apparently coined by Maulana Hasrat Mohani in 1921. Hasrat Mohani passed away on May 13, 1951.
Female Muslim Freedom Fighters
Begum Hazrat Mahal
One of the unsung heroines of the first struggle for independence was Begum Hazrat Mahal, who shot the British emperor Sir Henry Lawrence and destroyed the British army in a crucial battle at Chinhat on June 30, 1857. The British exiled Wajid Ali Shah, the Nawab of Avadh, to Bengal, where he married Begum Hazrat Mahal. After her husband was exiled, Begum assumed control of Avadh as the regent and was influential in the 1857 uprising. Like Rani Lakshmi Bai, she protested British control and was particularly against their policy of destroying holy sites. She was offered luxurious accommodations and a sizable sum of money by the British overlords in exchange for her return to Lucknow. Begum, however, rejected them and made it clear that the Independent Awadh state was the only option that she would accept. Till her last breath, Begum Hazarath Mahal fought for the independence of her homeland. On April 7, 1879, she passed away in Kathmandu, Nepal.
Bi Amma
Arguably the first lady to speak at a political gathering while wearing a burqa was Abadi Bano Begum. She participated in national freedom fights, and the Khilafat Movement, and promoted harmony between Hindus and Muslims. She is known as Bi Amma. Bi Amma played a crucial role in persuading women to participate in the fight for liberation on the advice of Mahatma Gandhi. Additionally, she was crucial to the Swadeshi movements. She planned meetings, raised money, and taught women the value of adopting Swadeshi items instead of British ones. Bi Amma worked on this campaign with Begum Hasrat Mohani, Sarala Devi Chaudhurani, Basanti Devi, and Sarojini Naidu. Further, Bi Amma reared Muhammad Ali Jauhar and Shaukat Ali, better known as the Ali Brothers, on her alone after becoming a young widow. When Abadi Bano Begum passed away in 1924, she left a lasting impression on the minds of Indians of all ages. Even the government of Pakistan recognized her contribution to the freedom movement sixty-six years after her passing by creating a commemorative postage stamp in her honor.
Amjadi Begum
Amjadi Begum was Bi Amma's daughter-in-law as well as the wife of Muhammad Ali Jauhar. Begum was always urged to enter politics by Bi Amma. Along with her mother-in-law and husband, she actively participated in the national independence movement. She attended all the political gatherings with her husband and even spoke at one to encourage women to take part in the fight for liberation. She allegedly sat next to Ali Jauhar during the First Round Table Conference in London since he couldn't have survived by himself. She supported her mother-in-law's involvement in the Khilafat and liberation campaigns. Additionally, on Jinnah's recommendation, Begum became the only female member of the Muslim League's First Working Committee, which included 25 men. In 1937, the All-India Muslim League held its annual assembly in Lucknow. Begum formed a separate electorate for women, allowing them to participate in the freedom struggle.
Asghari Begum, Habiba and Suraiya Taiyabji
Asghari Begum was about 45 years old at the time of the Revolt and was born in 1811. She is reported to have been a key player in the war against the British in today's western Uttar Pradesh. In 1858, the British allegedly kidnapped her and burnt her alive.
In the 1857 uprising, Habiba was the one who opposed British rule. She fought numerous battles against the British in Muzaffarnagar and was a Muslim Gujjar. However, at the age of 25, she and 11 other female soldiers were kidnapped and hanged.
Sir Akbar Hydari's niece, Suraiyya, was born in 1919 and served as the Seventh Nizam's prime minister from 1937 to 1942. She was a well-known artist who was renowned for her outlandish and forward-thinking viewpoints. She and her husband, an Indian civil servant named Badruddin Tyabji, served on committees in the constituent parliament. She was in fact responsible for creating India's flag.
Conclusion
We live in a free country because of freedom fighters. We must remember their sacrifices and work to maintain social fairness while coexisting in peace and harmony. The legends of freedom fighters continue to inspire today's children. Their hardships demonstrate the differences in life and the importance of the values they battled for. By fostering peace in the nation, we as Indian citizens should acknowledge and honor the sacrifice. Without mentioning freedom fighters, patriotism is nothing but a game. Because of freedom fighters, our country is independent. Indian Muslim engagement in the independence struggle was very pivotal, hence freedom is etched in their very being. Every year on August 15th, we celebrate our independence. Every Independence Day serves as a reminder of all the red channels that have flown in the independence of this country. We want to memorialize those freedom fighters who sacrificed their lives for India. We ought to never forget what they gave up for our country. These heroes' biographies illuminate our road to patriotism.
Reference
Sanchari Pal, Yusuf Meherally, The Forgotten Freedom Fighter For Whom Bombay Once Stood Still
Vikhar Ahmed Sayed, A forgotten freedom fighter, Muslim Vellori
Ali, Captain Abbass. Na Hoon Kisi Ka Dast-e-Nagar-Mera Safarnama (Khudnawisht). Rajkamal Publication, Delhi, 2009
Ali, Qurban. Captain Abbas Ali: a true patriot and son of the soil.
Syed Naseer Ahmed, Meet Maulvi Ahmadullah Shah Faizabadi who fought against British in 1857 war
Arshad Rashid, Mohammad Barkatullah: The Brave Freedom Fighter From British Era Who Set An Example Of Hindu-Muslim Unity
Hera Rizwan, Maulana Hasrat Mohani, The 'Unknown' Soldier Of Independence
Syed Naseer Ahamed, Begum Hazrat Mahal: Prominent woman of 1857 rebellion
Nabeela J , Abadi Bano Begum AKA Bi Amma: The Burqa Clad Freedom Fighter
Hijab Naqwi, Amjadi Bano Begum ­— A Fierce Leader
Siasat Daily Newspaper, Hyderabad woman Suraiyya Tyabji was behind the making of Indian flag
Bibliography
http://brighterkashmir.com/muslims-in-indias-freedom-struggle
https://munsifdaily.com/articles/ye-watan-hai-hamara-tumhara-nahi/
114 years old freedom fighter dies in Kolkata | Kolkata News - Times of India (indiatimes.com)
https://www.oneindia.com/india/azadi-ka-amrit-mahotsav-remembering-abdul-rahman-sahib-a-prominent-freedom-fighter-in-the-malabar-3427396.html
https://www.muzirisheritage.org/abdul-rahman-sahib-museum.php
https://siwan.nic.in/maulana-mazharul-haque/
https://amritmahotsav.nic.in/unsung-heroes-detail.htm?4595
https://www.siasat.com/meet-maulvi-ahmadullah-shah-faizabadi-who-fought-against-british-in-1857-war-2410895/
https://thelogicalindian.com/history/mohammad-barkatullah-bhopal-35314
https://www.thebetterindia.com/116872/yusuf-meherally-freedom-fighter-quit-india-bombay-mayor/
https://www.thehindu.com/society/history-and-culture/a-forgotten-freedom-fighter/article24582369.ece
https://www.constitutionofindia.net/members/muhammad-ismail-sahib/
http://indianmuslimlegends.blogspot.com/2011/02/quaid-e-millat-mohamed-ismail.html
https://www.indiatimes.com/explainers/news/maulana-hasrat-mohani-the-unknown-soldier-of-independence-576973.html
https://www.siasat.com/begum-hazrat-mahal-prominent-woman-of-1857-rebellion-2499390/
https://indianculture.gov.in/node/2794863
https://www.dawn.com/news/1615005 (Remembering Amjadi Bano Begum)
https://www.siasat.com/hyderabad-woman-suraiyya-tyabji-was-behind-the-making-of-indian-flag-2390571/
About the author
Mohamed Thaha is a PG scholar at the Department of Quran and Related Sciences, Darul Huda Islamic University, Kerala. He is from Chennai, Tamil Nadu.