Serving Islam and Humanity: Model of Garib Nawaz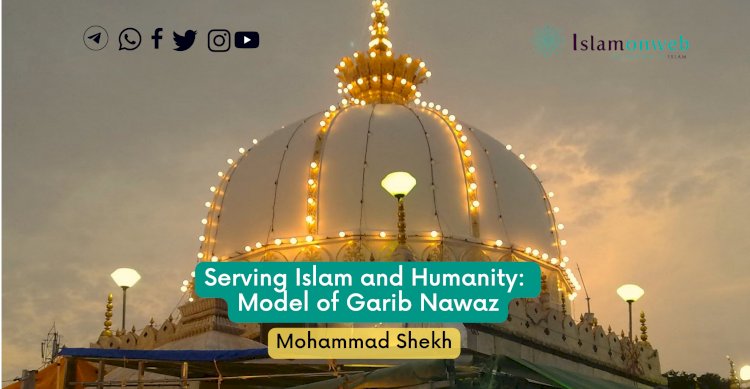 Introduction
Ṣūfīsm has a lengthy history in India going back over a thousand years. Sufism has been a driving force in spreading Islam throughout South Asia. Ṣūfīsm, on the other hand, rose to prominence during the reign of the Delhi Sultanate in the 10th and 11th centuries. Sufi Saints have the fundamental belief of the 'Oneness of Allah' and thus have much significance in the history of mankind. One of the shining luminaries in this constellation of Saints fashioned by the subcontinent in the 12th century is Muʿīn al-Dīn Ḥasan Chishtī Sanjarī also Sijzī Ajmeri (1143–1236 CE), by the epithet Khwaja Ghareeb Nawaz (Benefactor of the Poor)[i], a Persian Muslim Sayyid and an outstanding preacher, an inspired man, an erudite scholar, philosopher, and a great mystic from Sistan, who settled in the Indian subcontinent in the early 13th century and established the famous Chishtiya order of Sunni mysticism.
In the study of Islam in the Indian subcontinent, it is clear that the existence of Islam and Muslims in India has a significant role of Khwaja Garīb Nawaz. He did it all through his own great moral power, glorious and appealing character, internal depositions, spiritual benefits, praised morality, the authenticity of Islam, with love and dedication to mankind, without any worldly resources of wealth, power, force or support, not by the force of the sword.
A Short overview of his life
Muʿīn al-Dīn Ḥasan Chishtī born in 536 A.H./1141 CE, in Chisht in Sijistan (modern-day Sistan) region of East Persia, was sixteen years old when his father, Sayyid G̲h̲iyāt̲h̲ al-Dīn (d. c. 1155), died, leaving his grinding mill and orchard to his son. Khwaja Moinuddin Chisti (ra) was also blessed with a direct lineage to the Holy Prophet ﷺ through his mother, Umm-ul-Warah (ra) (alias Bibi Mah Noor), who was a descendant of Hazrat Imam Hasan. His great-grandfather, Khwaja Syed Ahmad Husain, migrated from Samarra in Iraq and eventually settled in Sanjar, within the region of Sistan. During his childhood, young Moinuddin was different from other children and kept himself busy with prayers and meditation. During his childhood, he showed early promise of a marvellous personality, displaying immense piety and sacrifice for others. Once when he was watering his plants, a revered Sufi, Shaikh Ibrāhim Qundūzī, unexpectedly entered his orchard. Young Moinuddin approached him and offered him a bunch of grapes. In return, Sheikh Ibrāhīm Qundūzī gave him a piece of bread and asked him to eat it. The Khwāja got enlightened and found himself in a strange world after eating the bread. After this, he disposed of his property and other belongings and distributed the money to the poor. He renounced the world and left for Bukhara for knowledge and higher education. He became the Murid (disciple) of Usman Harooni.
Moinuddin Chishtī visited the seminaries of Samarkand and Bukhara and acquired religious learning from the eminent scholars of his age. He visited nearly all the great centres of Muslim culture and acquainted himself with almost every significant trend in Muslim religious life in the Middle Ages. He became a disciple of the Chishtī saint 'Uthmān Hārūnī. They travelled the Middle East extensively, including visits to Makkah and Madinah.
Moinuddin Chishtī turned towards India, reputedly after a dream in which Prophet Muhammad ﷺ blessed him to do so. After a brief stay in Lahore, he reached Ajmer along with Sultan Shahāb-ud-Din Muhammad Ghori, and settled there. In Ajmer, he attracted a substantial following, acquiring great respect amongst the city's residents. Moinuddin Chishtī practised the Sufi Sulh-e-Kul (peace to all ) concept to promote understanding between Muslims and non-Muslims.
The literature reviews show that Ajmer was founded by an 11th-century Chahamana king Ajaydeva[ii], and the name derives its name from Ajaymeru, the invincible hill at the foot of which the present city stands. Ajaipal also built India's first hill fort at Taragarh. Ajmer was a Chauhan stronghold till 1194. The only remains of the Chauhan dynasty are the fort and the beautiful Anasagar Lake built in 1150 by Anaji[iii]. It was during the regime of Prithviraj Chauhan in 1194 that Muhammad of Ghori invaded India. Ajmer remained under the Sultanate till 1326. After that, it became a bone of contention between the Sultans of Delhi, the Ranas of Mewar, the Rathores of Marwar and the Sultans of Gujarat. This invasion brought Islam in the form of Ṣūfīsm to Indian soil. Along with this invasion came Kwaja Muʿīn al-Dīn, he established Chishtī yah[iv], one of the most prominent ṭarīqa (sufi orders) in India. From a humble beginning, the order has grown to its full stature. The seed sown by Muʿīn al-Dīn Chishtī has grown into a mighty tree of life in its fullness, branching out into the hearts of thousands of Indians. The Indian soil proved quite fertile for his work of preaching and guidance. His tomb in Ajmer bears witness to this fact, where not only Muslims, but even people of other religions flock to receive his barkat.
Contribution to the pluralist society
Muʿīn al-Dīn is portrayed as a teacher who consoled everyone who came to him in distress. His 'langar khana' was open to all kinds of people, allowing the city's impoverished people to get their fill. He intended to create social stability within which equality could be practised. He dedicated his entire life to serving humanity with a single purpose and a single mind. He had an exceptional personality, and his impact on society was long-lasting. By his very life and service to society, he has assigned the Ṣūfīs the highest place among mankind. He said, "Mystics are like the sun, they shine over the whole world, and their light illumines the entire world[v]."
Furthermore, he is remembered for his devotion to Allah and his service to humanity. He instilled in his disciples the spirit of human service, assisting the oppressed and meeting the needs of the poor. He dedicated his life to social service. As a result, he refused to associate himself with the rulers, kings, and administration. He realised that if they did, they would be unable to fulfil their social obligations as they desired. As he encountered different societies, cultures, and ideologies, he gradually became successful in his mission. He was noted for his austerities but even more for the ungrudging manner in which he took upon himself the burdens of all who needed help, and needy Muslims and Hindus continuously surrounded him.
In addition, Muʿīn al-Dīn, the founder of the Muslim Brotherhood, preached Islam not only through precepts and sermons, but also by giving living examples of humanity serving with a single purpose and unity of mind. Worship is listening to the plight of the oppressed, assisting the needy, and filling the stomachs of the hungry. Muʿīn al-Dīn worked tirelessly to understand that constant concern for those in need of comfort and assistance is regarded as more valuable in society.
Besides, Muʿīn al-Dīn preached Islam not through precepts and sermons, but through his exemplary life. At a time when Hindu fanatics could not tolerate other religions, Muʿīn al-Dīn won the hearts of the people with his different attitude. He preached to people of all races, social classes, and economic backgrounds. He emphasised religious harmony, tolerance, the importance of education, minority rights protection, and a pluralistic society. He firmly believed in the concept of being stronger together and skillfully created an environment of peaceful coexistence among various Indian subcontinent communities. Khwaja Garīb Nawaz took bold steps to guide his co-religionists' fortunes and assist them in surviving in a community.
Notwithstanding, Muʿīn al-Dīn Chishtī stands out as a role model for others in every way. He was a man who cared about others. He was more concerned with others than he was with himself. He refused to eat when he saw so many poor and miserable people sitting in the mosque's corners, hungry and starving. His poverty, rejection of any political or social support, and constant contact with the people's needs, sorrows, weaknesses, and vices were the anvils on which his personality was forged[vi]. (P.M., 1989)
In a word, he was a true ambassador of religious syncretism in India, having deeply imprinted Indian culture with their deep-rooted Ṣūfī influence in maintaining peace and harmony with other religious people. He promoted humanitarian values as well as universal love and peace. He had an impact on the socio-cultural development of the region in a variety of ways. His tolerant attitude, farsighted vision, and brotherly love for all make him a wonderful person. Violence, hatred, hate campaigns, jealousy, selfishness, and indifference plague today's society. If only we could emulate Muʿīn al-Dīn's spirit, society would be a very different place.
Conclusion
Khwaja Garib Nawaz approximately spent 45 years serving Islam in India. Finally, this fountain of wisdom, knowledge and guidance departed this world on 6th Rajab 627 H in Ajmer Sharif (Rajasthan, India). Nowadays, India is suffering from several religious and caste based conflicts. In this era of growing intolerance, religious extremist, Islamophobia, and revivalist and regressive tendencies, his ideas, views and strategies can become the guiding principles for all of us. Today our country needs the spirit of Muʿīn al-Dīn Chishti. His luminous shrine is situated in Ajmer Shareef. His spirit can revive and transform society from its dark spats to a bright future, where people can live in harmony, peace, mutual respect, and dignity. We need to go back to history not in time but in spirit.
References and Endnotes
P.M., C. (1989). The Shrine and Cult of Muin al-Din Chisht of Ajmer. Delhi: Oxford University Press.
Ali Khan, M and S. Ram. Encyclopaedia of Sufism: Chisti Order of Sufism and Miscellaneous Literature. Anmol, 2003.
Anbu A, Sagaya Pushpa. Socio-religious contribution of chishti sufis(from Moinuddin Chishti to hazrat Khwaja Nizamuddin Auliya). New Delhi: Jamia Millia Islamia.
Khan, K.D. Khwaja Muin-ud-Din Chishti: Social and Educational Relevance. Delhi, 2004.
Nadeem, Dr. Muhammad Tayyeb. "Ṣufī Saint 'Khāwaja Gharīb Nawāz' and His Impact on Indo-Pak Subcontinent: An Analysis in the light of His Intuitive Role ." Al-Qamar (2021): 193-206.
[i] Blain Auer, "Chishtī Muʿīn al-Dīn Ḥasan", in: Encyclopaedia of Islam, THREE, Edited by: Kate Fleet, Gudrun Krämer, Denis Matringe, John Nawas, Everett Rowson.
[ii] Dasharatha Sharma 1959, p. 40.
[iii] Gopal, Madan (1990). K.S. Gautam (ed.). India through the ages (https://archive.org/details/indiathroughages00m ada).
[iv] Arya, Gholam-Ali; Negahban, Farzin. "Chishtī yya". In Madelung, Wilferd; Daftary, Farhad (eds.). Encyclopaedia Islamica.
[v] Moḥammad Noor Nabi, Development of Muslim religious Thought in India, p.22.
[vi] P.M.Currie, the Shrine and Cult of Mui'in aI-Din Chishtī of Ajmer, p.144.
About the author: Mohammad Shekh is Senior Secondary Student of Darul Huda Islamic University West Bengal Campus. Interested in History, Current Muslim World, Islamic theology, Ṣūfism and Islamic History.